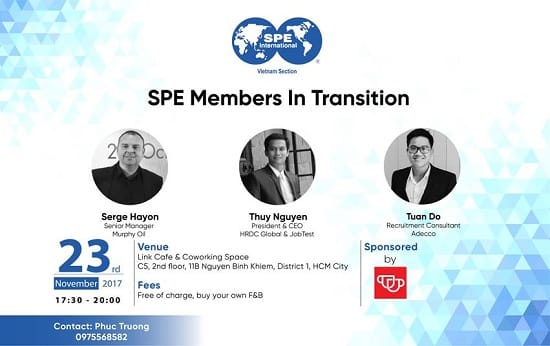 Recent market conditions, with the severe drop in oil price since Q3 2014, have led many industry professionals to explore potential career transition opportunities.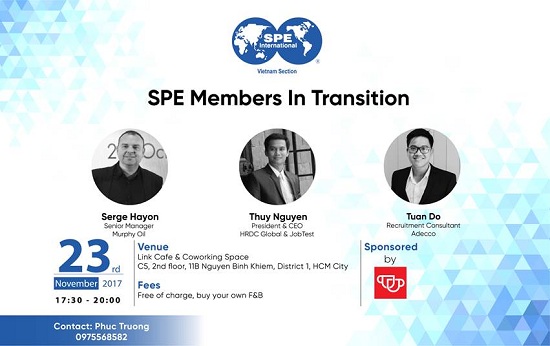 This evening seminar aims to give the audience an understanding of some of the available opportunities to engineers, operational staff, and commercial specialists. The evening will cover topics such as:
– Transition within a company
– Transition between companies
– Transition between industries
The event will be in a panel format followed by a Q&A session, with speakers covering the following points and more:
– Any additional training they required for their transition
– Writing multiple CVs targeting different industries
– How they found the job and what resources they used
– What skills they found most useful from their original career & what they found most challenging
– Any pitfalls or mistakes to avoid
Our speakers for the evening include:
Serge Hayon, Senior Manager, Eastern Hemisphere Subsurface, Murphy Oil
Serge will be sharing his insights on transitioning careers between companies and within a company.
Serge has worked as both a Development Geologist and Reservoir engineering and transitioned through several technical roles with his interest and expertise in reservoir characterization. After working on multiple projects across deep water and shallow water developments and gaining exposure to different depositional settings and operational challenges, Serge transitioned into team lead and management roles. More recently Serge has re-located to Ho Chi Minh city with Murphy Oil and hopes to help grow the business in Vietnam.
More at https://www.linkedin.com/in/sergehayon/
Tuan Do, Recruitment Consultant, Adecco Vietnam
Minh Tuan was among a few talented Vietnamese students who was awarded full scholarship to study at University of Technology Petronas – Malaysia. After graduation, he decided to come back home and took the role of a Field Service Engineer – drilling product line at Baker Hughes, one of the world's largest oil field services companies. However, with his keenness on dealing with people, he was convinced to step out of his comfort zone and explore a career in Recruitment business where he perceives himself as a good match in together with huge potential to develop. Joining Adecco, Tuan is a part of Industrial Permanent Recruitment team to handle Technical Sales & Service roles with expertise on Utilities & Machinery sectors. Tuan strongly believed in his ability to pursue the recruitment career with all his passion, patience, and persistence.
He will share his experience of moving industries. More at https://www.linkedin.com/in/minhtuando89/
Thuy Nguyen, President & CEO, HRDC Global & JobTest
Thuy's expertise include talent and leadership development, competency modelling, system solutions in oil & gas, banking and retail. Moving from a position of HRD in PetroVietnam to establishing his own start-up in Human Resources, Thuy will be providing us with his experience of transitioning between companies and across industries. Following the success of this start-up, Thuy was the International Key note speaker at Asia HRM Summit in Singapore 2015 & Malaysia 2014.
More at https://www.linkedin.com/in/thuy-nguyen-cong-06045124/
This event is Free of Charge. We wish to see you on the 23rd for a hotly debated discussion.